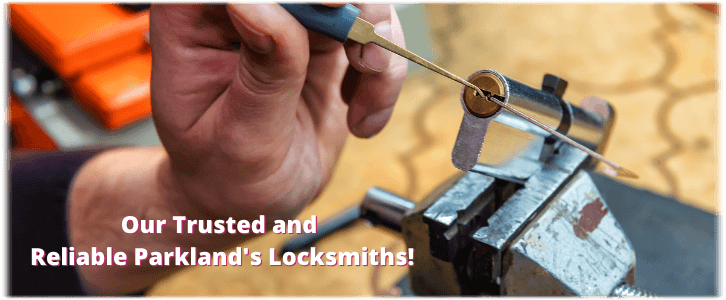 For lock rekey services in Parkland, FL, our team has the most experienced in the state. We specialize in rekeying locks and provide residential and commercial clients with a convenient lock solution. Instead of replacing your locks, rekeying them is often the best and most cost-effective option for your new home or office. Our men can help you rekey your locks and improve your security. Rekeying locks that you don't have keys for is also an option.
Furthermore, we are a Parkland, FL mobile rekeying lock service available 24/7 to provide dependable service. Also, we have people who are veterans in this industry. Therefore, you will experience the most exclusive and extensive assistance. You do not have to worry about affordability and quality because we are the best at what we do. So give us a call whenever you need lock rekeying services!
Lock Rekey: Why is it Necessary?
Have you lost your key? Worried that someone might gain access to your house? Is your key malfunctioning? However, by changing the combination of your locks, you can get a new set of keys at a low cost by rekeying locks from us. You may need to rekey locks if you take over a home or business in Parkland, FL. It is imperative that no one else can enter the business that previously had a lock. This is a simple precaution to ensure that only you and those with keys can access the locks. It is important to do this because if not, you are bound to regret it. After all, intruders might come. Call our lock rekey team in Parkland, FL, to learn more!
The Safety of your Family is Paramount!
We are here to help. Our goal is to give you peace of mind by helping you secure your property. Getting the job done on time at an affordable price is our goal. Despite the tightest deadlines, we have a proven track record of completing this. With our Parkland, FL, lock rekey service, you can enhance the security of your home or business. You can reach us at (561) 566-6007. We are also people who have families, so we know how vital it is to protect everything inside a house or office.
Lock Rekey Services  24/7
Installing door locks is the most effective means of preventing break-ins and securing your home. We are available 24 hours a day, seven days a week, including holidays, if you need to rekey your locks to ensure the safety of your family or business. Need help right away? There is always someone available to take your call during a crisis. As soon as you call, we will send our experts to your location, whether early in the morning or late at night. Our team takes great consideration for commercial locks. We do not slumber or sleep because we know that a request might come, and someone must be available to help you. The good news is we are on standby to meet your demands. So call us immediately if you live in Parkland, FL, and need lock rekey assistance!